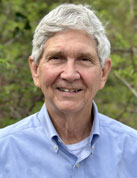 PIGFORD & COREY LLC, REALTORS®
Highlights & Accomplishments
Lifetime resident of Meridian, MS.
Attended Meridian Public Schools.
1965 Graduate of Meridian High School.
1969 graduate of University of Mississippi (BBA Degree).
Entered Real Estate Business in Meridian in 1972.
Extensive background in Real Estate Appraising.
Co-Owner of Pigford & Corey, LLC REALTORS ® since 1980.
Licensed Mississippi Residential builder.
Instructor of Real Estate (nighttime) at Meridian Community College.
1977 & 1998 past President of East Mississippi Realtors®.
1977 & 2001 Realtor of the Year, East Mississippi Realtors®.
Past Chairman, Multiple Listing Service, East Mississippi Realtors®.
Past member- Board of Commissioners of the Housing Authority of Meridian.
Past member-Board of Directors of Hope Village for Children.
Developed two subdivisions and built speculative residential housing.
Past Junior Warden of St. Paul's Episcopal Church.
Married, 3 children, 7 grandchildren.
Principal Broker.
Tell Me What Your Needs Are:
Submit the following form to inform me of your specific real estate needs. Upon receipt, I will research your interests against all properties currently available both through our office and MLS to assist you in easily locating only those properties which meet your requirements.